Modern scholars generally think that the Christian martyrdom stories are highly exaggerated and that if Roman persecution had been as severe as claimed, Christianity would have been an underground movement never able to reach large groups. Also, early' Christian leaders, in order to encourage their flocks who may have lost hope and courage, are thought to have chosen this sort of self-sacrifice, following the path of Christ and ensuring their popularity both in this world and the one to come. Popular punishments reserved for Christians were crucifixion, burning or being thrown to wild animals, with the latter two often carried out in open places of assembly. The story of the martyrdom of St Polycarp is regarded as the first authentic narrative of a Christian martyrdom and is a typical example of the persecubons that Christian leaders suffered. His story gives detailed information of how he was arrested and martyred by the mob of Smyrna. St Polycarp is thought to have lived in about 69-1 56, and met some of the apostles whc had known Christ. He is thought to have been converted by St John and appointed by him to his post as the bishop of Smyrna.
Saint Polycarp is being of marty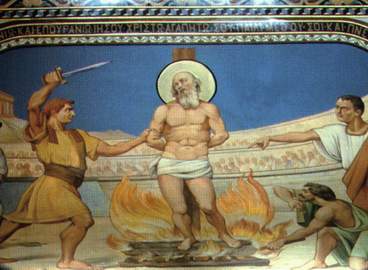 The persecution of Christians in Smyrna was probably no more frequent than in any other Roman city. It was carried out in the stadium (Its site is completely built over and there is no trace of it.) near the southern fortifications of the city and close to the sea. During one such spectacle the crowd having been frustrated by the calmness and composure with which the young Christian victim Germanicus met his death, began shouting for St Polycarp to be brought for punisFment.